Oracle Card Choice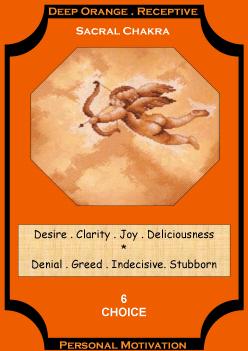 Love and relationships of all kinds. It is a theme that is not only important but vital to us all. The wild, impulsive, joyous yet painful emotions that flow around us when we are in love can be so engulfing. It is when we learn a measure of control over these emotions that we begin to gain a measure of control in our lives. Then, and only then, can we begin to make true and honest decisions, stand strongly by our beliefs and morals and be truly proud of ourselves (and the successes that result from a well constructed life).
This card is one of decisions and choices in all areas of our life, but especially to do with other people and relationships. It is about reaching a compromise and balance with others, but not at the expense of honesty and dignity - ever. When we lose those qualities we lose ourselves and hence our energy.
Like chemistry lessons at school, when we mix various substances together, we get a wide variety of reactions and results. So it is in our relationships - we produce many effects upon each other, from good to bad to great and powerful to confusing - beautiful results and destructive results. We need to learn to be absolutely honest with ourselves and work on our own negativities in such situations. We also need to learn to say no to people and situations that really do not suit us. Choose that which is good and enhancing to all concerned, and say a firm no to anything less. Only then can life support us fully, bringing a better quality of opportunity, lifestyle and relationship into our lives.
SELF AND SELF DEVELOPMENT
You need to assess what love really means to you. Sit quiet and look deep. Try not to react to others through pride or hurt which are simply destructive surface emotions. Choose to be better than that, choose to live life with the best you have inside you. Then do it. Simple.
HOME AND FAMILY
This is a time to stand back and hold back criticism or judgement. Family members must learn from their own mistakes, and you need to trust them to begin to make true choices as they grow through those mistakes. You cannot live life for others.
LOVE EMOTIONS AND ROMANCE
Love really is in the air if this placement has come up for you today. You may need to make an extra effort within relationships, but the investment will pay back grand rewards. Persevere. Choose to express the best of yourself, and discover the best qualities in others. Don't compromise on what you know is true.
MONEY AND POSSESSIONS
Do not let heightened emotions and fear blind you to the practical realities in life. A balance is always essential. A solution and way forward will come as a result of making common sense decisions, rather than anything impulsive.
WORK, HOBBIES AND CAREER
Admiration and respect for someone you have work connections with could develop into something deeper. Keep a clear head and take things one step at a time. Keep balanced though and when it is time to 'let your hair down' you will know.
HEALTH
Love of a person and love of life will give you renewed vitality. Actively choose people and situations that make you feel good - then share generously of your positive energy and attitude. Dancing and socialising will give you a feeling of wellbeing.
FRIENDS AND SOCIAL LIFE
Should this friendship develop? Not just now or you could ruin something special. Take your time. If something is real it will still be there in your life. If it is fleeting, then you have saved yourself (and possibly others) heartache by taking things slow.

Watchword: The picture oracle gives you a combination of prediction and character analysis. Please remember that YOU have complete control over your own life. The Oracle Cards cannot make your decisions for you; they simply give you guidance and invite you to take a fresh perspective on life. Nothing is totally predestined - if you do not like something, be prepared to change it for the better. Most changes, however, begin self. With a positive and determined attitude you may be amazed at what you can achieve